Sen beats world champion to claim India Open title
As he claimed the India Open Super 500 at IG Stadium on Sunday, Lakshya Sen simultaneously beat Singaporean Loh Kean Yew and the tempting instinct to match the world champion's showboating.
For a pair of men in their early 20s, both equipped with an exuberant attack, the impulse to get into a 'who's faster, who's hitting harder' contest could have dragged the Almora man into peril at crucial junctures. But Sen displayed maturity and control, putting to shade the world champion who was crowned only last month. On his debut at the Delhi event, Sen, himself a bronze medallist in the world championships, became the first opponent to hand Kean Yew a defeat on the circuit, with a 24-22, 21-17 victory.
After the win, Sen admitted that he was feeling the nerves. "It feels nice to win. In the end I was a little anxious to win. But I'm happy I pulled off the win," he said.
In both the semis and finals, Sen was under the pump at the finishing stages. The confidence and momentum he carries in crunch situations make Sen the most anticipated main act of 2022 in Indian badminton.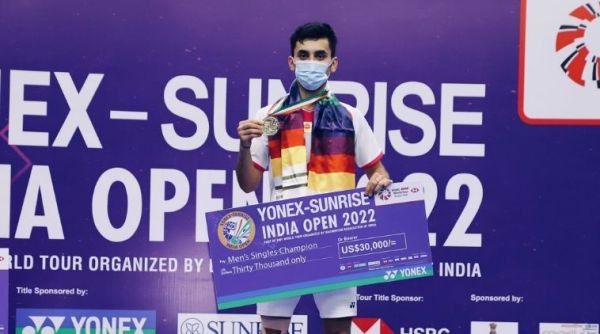 Lakshya Sen with his medal (Twitter/BAI Media)
The win — which came on a day the Indian men's doubles pairing of Satwiksairaj Rankireddy, 22, and Chirag Shetty, 25, beat thrice World Champions Hendra Setiawan and Mohamad Ahsan of Indonesia — was proof that the age of the well-honed Indian men's badminton player, who is not a one-off like Prakash Padukone and P Gopichand, was here.
Regular one-on-one conversations with Padukone have guided Sen into the most purple of patches on the international circuit.
How Lakshya Sen won his first World Tour 500 title on his debut at the India Open 🥇

(via @bwfmedia) pic.twitter.com/02od3Arg73

— ESPN India (@ESPNIndia) January 16, 2022
Sen is an interesting case study in Indian sport. An example of early scouting by Padukone, handpicked at age 8, Sen has grown in the sport in the most ideal of conditions. He was blessed with supportive parents -with his father being a certified coach — the best of facilities and technical expertise at the Padukone academy, where he had Vimal Kumar as coach. He was also flush with funds, thanks to sponsorship from the government and the Olympic Gold Quest micro-managing every training step he took. Years of sustained, pinpoint planning makes him a project that's gone right in the Indian ecosystem.
📸#YonexSunriseIndiaOpen2022 #IndiaKaregaSmash #Badminton pic.twitter.com/YZt1luZ88j

— BAI Media (@BAI_Media) January 16, 2022
Padukone ensured that Sen got training spots under some of the biggest names — from Danish legend Peter Gade in France to most recently, Olympic champ Viktor Axelsen in Dubai — to add minor dimensions to his game, and keep chiseling it over the years.
Sen has been on the international circuit more than any men's singles player in India, and has a line-up of quality sparring in Bangalore. The last missing piece was the incoming Korean coach, Sung Yoo Yong, who was shortlisted from amongst 15 options across Malaysia, Indonesia and Korea, over long Zoom interviews with the former Olympic medallist sitting in the USA.
SOUND ON 🔊 @lakshya_sen 's post match reaction👇#YonexSunriseIndiaOpen2022 #IndiaKaregaSmash #Badminton pic.twitter.com/DaQL9184Sl

— BAI Media (@BAI_Media) January 16, 2022
Sen wasn't shy to toss the shuttle and bring the speed to braking levels even, in his effort to rob Loh of his speed oxygen.
A travelling physio, regular nutritional consults, and sleep monitoring – all done by experts — complete the package of elite performance.
It was the Korean coach who strategised along with Vimal Kumar to counter Kean Yew, a breakthrough young champion who had blitzed into fame with his shocking speed-game. But it took an incredibly sophisticated mind to pull off the classy simplicity of not going overboard and eschew fancy attacks, while the opponent was doing just that. Even when Sen led 16-12 and 20-17 on the brink of winning, he didn't ram down the gears, keeping his head to calmly win after sticking to his plan throughout.
Kean Yew has a crowding attack — flat, fast exchanges that rattle opponents. The flurry had earlier claimed Kidambi Srikanth in the World Championship finals. Sen deftly slowed the pace, and refused to feed the shuttle to Kean Yew's racquet. His ability to come back from trailing positions — which only Saina Nehwal can be said to have — was the hallmark of Sen's title run.
Kean Yew fought back from 17-19 in the opener to go up 20-19 and had three set points thereafter. But Sen was not to be denied. He drew howlers out of Kean Yew — silliest of serving errors and a smash into the net, a sitter on a yawning court. Sen would take the opener 24-22 with a bold drop skimming the sidelines. In the second, he kept a 3-point distance ahead of Kean Yew from 14-11 and didn't entertain last-minute drama, playing the steadiest in the tournament sealing sets.
Share This Post With A Friend!