Western US states hit by record freeze and heavy snow | US weather
The US west is facing record-breaking cold temperatures and heavy snow as severe weather sweeps the region from Washington to California.
Officials in Oregon and western Washington opened emergency warming shelters as temperatures dropped into the teens (below zero in centigrade) amid an arctic blast that forecasters said would last several days. In California, heavy snow closed ski resorts and shut down travel across much of the Sierra Nevada, the mountainous region along the California-Nevada border.
Oregon state officials have declared an emergency and advised residents to avoid unnecessary travel. In Multnomah county – home to Portland – about a half dozen weather shelters were open. Seattle leaders also opened at least six severe weather shelters starting Saturday through to at least Wednesday as the city sees snow and record breaking cold.
Sunday's snow showers blew into the Pacific north-west from the Gulf of Alaska, dumping up to 6in (15 cm) across the Seattle area. The city's low on Sunday was -6.7C (20F), breaking a mark set in 1948, the National Weather Service reported. Bellingham was -12.8C (9F), which was three degrees colder than the previous record set in 1971.
In west Seattle, Keith Hughes of the American Legion Hall Post 160, said his warming centre could welcome about a dozen people – its capacity limited by lack of volunteer staff.
"Volunteers, this is a problem for myself as well as everyone else in town, it's really hard to get with Covid going on," he said.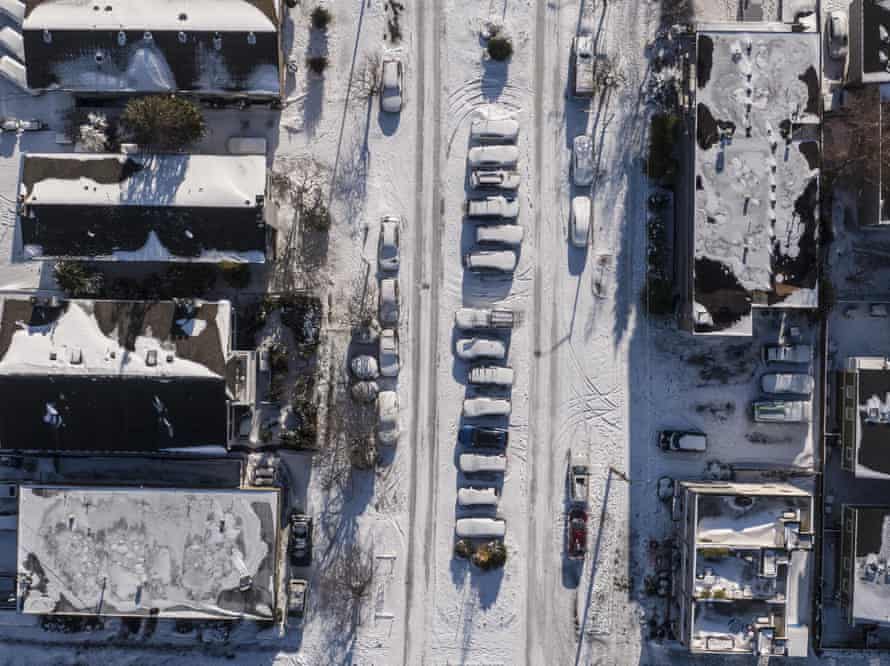 Winter weather led to canceled flights in Seattle, Minneapolis, Salt Lake City and elsewhere.
Meanwhile, snow and downed trees and power lines closed highways in the mountains of northern California and Nevada. Maintenance crews were working to clear still-falling trees and snow from the roads, which were so narrowed in some areas that emergency vehicles wouldn't be able to get through in the event of a collision, Caltrans reported. Forecasters warned that travel in the Sierra Nevada could be difficult for several days with heavy snow expected from late Tuesday to Wednesday.
At Donner Pass in the Sierra, officials at the Central Sierra Snow Laboratory on Monday said recent snowfall had smashed the snowiest December record of 179in, set in 1970. The record is 202.1, making it the third snowiest month on record, but more snow is expected.
The National Weather Service warned that the region could face its coldest nights in nearly five years and that "vulnerable and homeless populations could be significantly impacted". Avalanche danger in the area was considerable, the Sierra Avalanche Center reported.
"There are a lot of downed trees going over the pass on I-80. We're still trying to find a place for the massive amount of snow," said Mike Powers, a sergeant with the Placer county sheriff's office. "The past few days we've had a lot of vehicles stuck on roadways trying to get into driveways."
Ski resorts across the Lake Tahoe region shut down amid the severe weather. The Northstar California Resort in Truckee closed its mountain operations on Monday because of blizzard conditions. More than 6ft (1.8 metres) of snow has fallen on the ski resort over the past 48 hours, according to the resort's Facebook post.
Search and rescue crews are looking for a missing skier whose last known location was at the ski resort on Saturday morning.The Placer county sheriff's office said Rory Angelotta, 43, was reported missing over the weekend when he didn't make it to a Christmas dinner with friends after a trip to the resort.
Extreme weather has hampered the search for Angelotta, who has been described as an "experienced backcountry skier", and the highway closure prevented some searchers from reaching the area. "Unfortunately we can't defy the laws of physics and nature. It was literally and figuratively a perfect storm," Powers said.
Officials were able to resume operations Tuesday as conditions improved and about 35 people from multiple agencies were aiding in the search.
"With about 10ft of fresh snow since Rory went missing and extreme harsh conditions it's looking very unlikely he's going to be found – at least alive," Powers said. "But we're not giving up."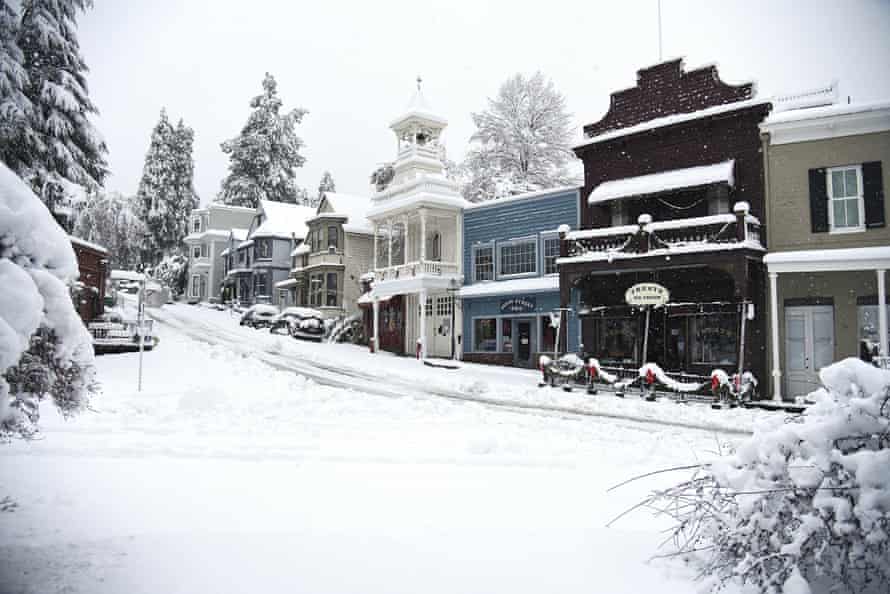 In Nevada, freezing air and blinding snow blasted across the northern part of the state on Monday, affecting travel and business, closing Sierra Nevada highway passes, delaying airport flights and shutting state offices.
Crews were working to clear snow and trees from Interstate 80, which remained closed from the Nevada state line to Placer county, California, due to poor visibility and heavy snow. An avalanche blocked a state route that connects Tahoe City to some ski resorts in Olympic Valley.Authorities advised motorists to avoid nonessential travel.
The Nevada governor, Steve Sisolak, ordered nonessential state workers, other than public safety and corrections personnel, to remain at home because of the storm.
Temperatures in western Washington and Oregon were not expected to rise above freezing until at least Thursday, and possibly not until the weekend, forecasters said.
Share This Post With A Friend!